Meal information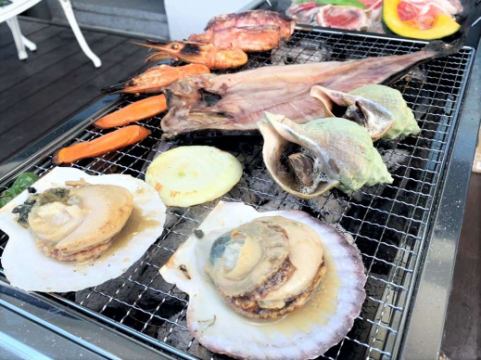 Option menu BBQ reservations accepted
【Limited to Summer】 How about a family-friendly BBQ on the shores of Lake Toya

Hours of use 11: 00-20: 00 90 minutes


If you would like to make a reservation, please call us.  Please feel free to contact the reservation staff.

·Genghis Khan set 1300 yen
 Lamb meat 200g, sausage, vegetables
·Seafood set 1900 yen
 Scallops, shrimp, whelks, skewers, atka mackerel, vegetables

※ Each set can be used by 2 people.

 set content(Free offer)
· Tarp tent(With 1 side sheet)
· Outdoor table/bench(For 4 people)
· BBQ stove / fire scissors
· Paper plate / chopsticks / tongs
· Black charcoal 2Kg 
※Additional black charcoal 1Kg 300 yen

  
   ※ Number of users:1 site 2 to 4 people

   ※ Please refrain from bringing in ingredients.
   
   ※You can bring your own drinks
     Vending machines for alcoholic beverages and soft drinks are also available at this facility.

※Please make a reservation at least 3 days in advance.
 Please note that the cancellation fee will be applied as follows.
  3 to 2 days ago 30%, the day before 50%, the day 100%

The service may be canceled depending on the weather such as a storm.There is no cancellation fee.